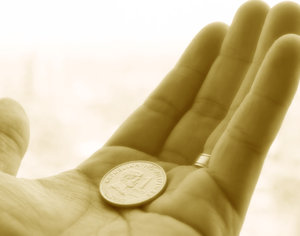 I'm in the midst of fundraising for this project. Some people call it "support discovery," the thought being they are just finding the money and funding God has already provided. However you name it, the process is still the same.
"Will you please give me money?"
I struggle with saying these words. The theological knowledge of Gods ultimate providence for this project doesn't escape me, but these simple words do.
I was sharing this struggle with my pastor, when he invited me to a conference on Generosity that he and several other leaders in the church were attending. The goal of the two day conference was to answer the question, "What if the Church was Generous?"
Scott Rideout, a pastor in Arizona, presented his own struggles with how to answer the question and shared his churches journey toward becoming a generous church. He spoke of the possibilities for the church and how to create a culture of generosity amongst believers.
One important lesson hit home to me and my struggle in asking people to give. He explained that asking people to be generous isn't about what you want "From them" it's about what you want "For them." It's not about getting an amount of money but instead offering them chance to be a part of something so much bigger.
I admit I hadn't looked at it that way. I apologize not communicating to you what I desire "For You" as you generously give. Let me clear up that mistake.
What I Want For You:
1. To See the Power of God as He works in peoples lives.
2. To Fell the Joy of being part of Gods Workings.
3. To be Challenged by God to serve in a new way.
4. To be excited about Sharing your own Stories of what God is doing.
5. To come to a new Understanding of the measure of God's love for you.
Thank you for being so generous already. As you continue to give and be involved in this project, I pray that God will bring these things about in your life, even as He is doing so in mine.